Cherry & Silver Scholarship Gala
Saturday, August 20, 2022
---
Location: The Clyde Hotel
(Formerly the Hyatt Regency Albuquerque)
Doors Open: 6pm
VIP Reception: 5pm
Thanks to our generous donors, the Cherry & Silver raised over $400,000 for UNM student-athlete scholarships last year! Join us again and help us reach new highs this year! All proceeds raised at The Cherry & Silver Gala supports UNM student-athlete scholarships and helps Lobo Athletics continue providing the resources necessary for them to become champions in the classroom and in competition.
Reserve your table for the Cherry & Silver Gala TODAY!
A black-tie event you don't want to miss!
VIP Reception, Cocktail Hour, Silent Auction, Fund-A-Need, and Live Auction!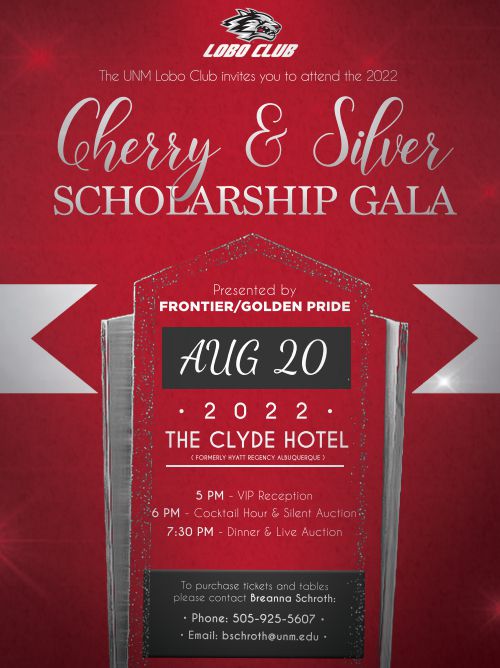 Tables, Tickets & Sponsorships are available!
Cherry Table - $2,500
Seats 10
4 VIP Reception Tickets
VIP table location
Advertising in program and on website/socials
Silver Table - $1,500
Individual Tickets
Want to volunteer your time and talents?
Join us the on August 19th to help set up and prepare or come on the day-of, August 20th for a shift!
Friday, August 19th Volunteer Opportunities:
Join us as early as 10am to set-up tables and silent auction items!
Duties include:
Organizing Silent Auction Items
Decorating Silent Auction Tables
Preparing the Ballroom and More!
Saturday, August 20th Volunteer Opportunities:
Volunteer opportunities begin at 4pm with a volunteer briefing at 3:30pm where assignments will be given. Volunteers are not required to stay the full time, but must inform Bre of availability.
Duties include:
Check-in Attendees
Greeting Attendees
Photo Station Attendants
Silent Auction Monitors
Silent Item Fulfillment Organizers
LIVE Scribes
Computer Entry for LIVE Bids
Fund-A-Need Scribes & Computer Entry
Item Runners
Checkout Attendees
Silent Auction Item Distribution
Change the contact information to read:
To reserve your table, tickets, volunteer, or find out more, contact:
The Lobo Club - Bre Schroth
505-925-5607
bschroth@unm.edu
---
Thank you to our Title Sponsors: