Lobo Legacy (Endowment Gifts)
Lobo student-athletes need your support! UNM Athletics relies on private contributions to underwrite the growing expense of providing scholarships to our 450 student-athletes competing in 21 NCAA Division I sports. As the costs of higher education continue to increase, so does the importance of donor support.
The Lobo Legacy Endowment Program has been established to provide educational and athletic opportunities that were not previously available to UNM student-athletes. Opportunities exist to establish a permanently named endowment that will perpetually benefit UNM student-athletes. You may establish an athletic endowment through a gift of $25,000 or more over a three-year pledge. An endowment may also be established through an estate or planned gift.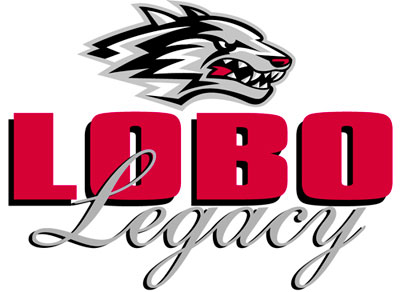 For more information, please contact the Lobo Club at 925-CLUB (2582) or email us at loboclub@unm.edu.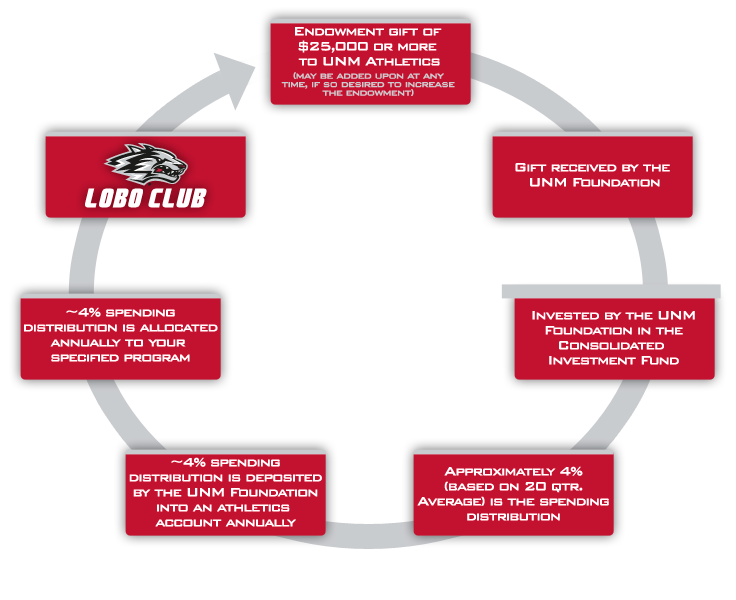 All endowment information may be found
HERE
on the UNM Foundation website.
LOBO LEGACY ENDOWMENT DONORS
The University of New Mexico Athletic Department and Lobo Club are grateful for the following loyal supporters that have established endowments that benefit UNM student-athletes:
New Mexico Athletics Scholarship Endowments
Al Kouri Memorial Endowed Golf Scholarship
Ambrose Alday Memorial Baseball Scholarship
Athletic Academic Excellence Endowment
Athletics Top 100 Club Endowment
Ben & Patricia Abruzzo Endowed Memorial Ski Scholarships
Bill Weeks Memorial Scholarship Endowment
Bob King & Family Men's Basketball Scholarship
Bruce & Sandy Seligman Men's Golf Scholarship
Cara & Carissa Youngblood Softball Scholarship
Dale & Kileen Scott UNM Alumni Lettermen Endowment
David & Annie Olson Scholarship Endowment
Don Flanagan Women's Basketball Scholarship Endowment
Don Kirby Track & Field Meet Endowment
Donald Burton Anderson Endowed Scholarship
Dr. Charles & Anne Gilliland Women's Track Scholarship
Fifth-Year Athletic Scholarship Endowment
Franciso & Alberta Urrea Golf Scholarship
Frank O. Greenleaf Memorial Scholarship Endowment
Fred K. Rose Volleyball Endowment
Gabe Nava Memorial Scholarship Endowment
George and Mary Friberg Scholarship Endowment
George T. Petrol Baseball Scholarship
Hudson Family Opportunity Scholarship for 5th-Year Student-Athletes
Jack and Theda Rushing Baseball Scholarship
James Bell Scholarship
John Baker Endowed Memorial Scholarship
John G. Luksich Memorial Football Scholarship
John G. Luksich Memorial Track Scholarship
John Perovich Scholarship Endowment
J.R. & Sue Carriveau Memorial Golf Scholarship
Lobo Club Heinz, Omer Endowment
Lobo Legacy Alumni Endowment for Men's Tennis
Lobo Legacy Endowment for Men's Basketball
The Maloof Family Athletic Scholarship
Manuel Goodman Endowed Scholarship Fund
Marion & John Robert Scholarship Endowment
Marvin Good Memorial Men's Basketball Scholarship
Mickey & Louise Miller Sports Medicine Scholarship
Paul "Pete" McDavid Memorial Scholarship
Prescilia Cappuccilli-Burt Memorial Scholarship
Raymond E. Berube Jr. Memorial Track Scholarship
Richard L. Pribble Football Scholarship
R.J. & Maria Berry Athletic Scholarship
Sharon Melchert, Lynne Schendel, Betty Seals, Susie Singer & Mona Williams Women's Basketball Scholarship
Strosnider Family Endowed Scholarship Fund
Tine & Mike Greenblatt Memorial Athletic Training Scholarship
UNM Lobo Club Athletic Scholarship Endowment
UNM Tennis Scholarship Endowment
Virginia Good Memorial Women's Golf Scholarship
Wayne & Joe Harley Endowment for Skiing
Willis L. Barnes Memorial Scholarship